Negative Review Removals
The last thing that any brand would want to see is a negative review since it can put a serious dent in your online reputation and credibility. This could be a big problem for financial brands and brokers since they need to have a positive image if they want to gain their target audience's trust and confidence.
Address Issues and Negative Reviews Quickly to Mitigate Possible Backlash
If your brand has a lot of negative reviews on social media accounts or third-party websites, then it can have a negative impact on your business. Therefore, it is important to find the right partner that can help you with negative review removal for financial brands and brokers.
Negative Broker Reviews on personalreviews.com – we can remove it!
Why You Need Negative Review Removals
Negative reviews, particularly those that go unresolved, can damage the image of brokers and financial businesses. Online reviews are frequently regarded by prospective clients as a crucial consideration throughout the decision-making process. Removing or minimizing unfavorable reviews aids in maintaining a positive perspective.
Furthermore, it will help you safeguard the reputation of your brand in the target audience's eyes. Therefore, you need to find and get the negative reviews removed as quickly as possible.
While it's critical to properly respond to unfavorable reviews and work to have them removed, you should take comments seriously and work to continually improve your offerings to customers. In the very competitive financial sector, you may want to improve your brand.
And the best way for doing that while cultivating a trusting relationship so that you can draw in new clients is by actively maintaining your online reputation and responding to unfavorable reviews.
How SERPutation Helps with Negative Review Removals
Working with SERPutation will ensure that all the negative comments regarding financial brands and brokers are taken care of. Our extensive list of services will help you detect and identify potential issues beforehand. Here are some of the things that you can get from SERPutation:
Monitoring and Detection
Our reputation management services frequently make use of systems that actively follow and monitor internet reviews across numerous platforms, even negative ones. These tools can assist in locating adverse comments and alerting you right away as they are published, enabling swift action and solutions.
Relationships with Review Platforms
We also have long-standing connections and direct interactions with well-known review platforms. This can accelerate the process of asking for review deletions or addressing problems with inaccurate or dishonest reviews.
Violations Reporting
A great thing about our platform is that we have connections with various review platforms. Therefore, we can help you in notifying the platform administrators regarding the presence of inaccurate information in bad reviews. This way, it will help you through the reporting process and offer any supporting evidence or paperwork for the removal request.
Resolution and Mediation
To aid in facilitating dialogue between you and the reviewer, our experts also provide mediation services. We can serve as a go-between, attempting to bring about a resolution and perhaps reducing the adverse effects of the review. When trying to address complex or escalating problems, this can be extremely useful.
Negative Broker Reviews on scam-detector.com – we can fix it!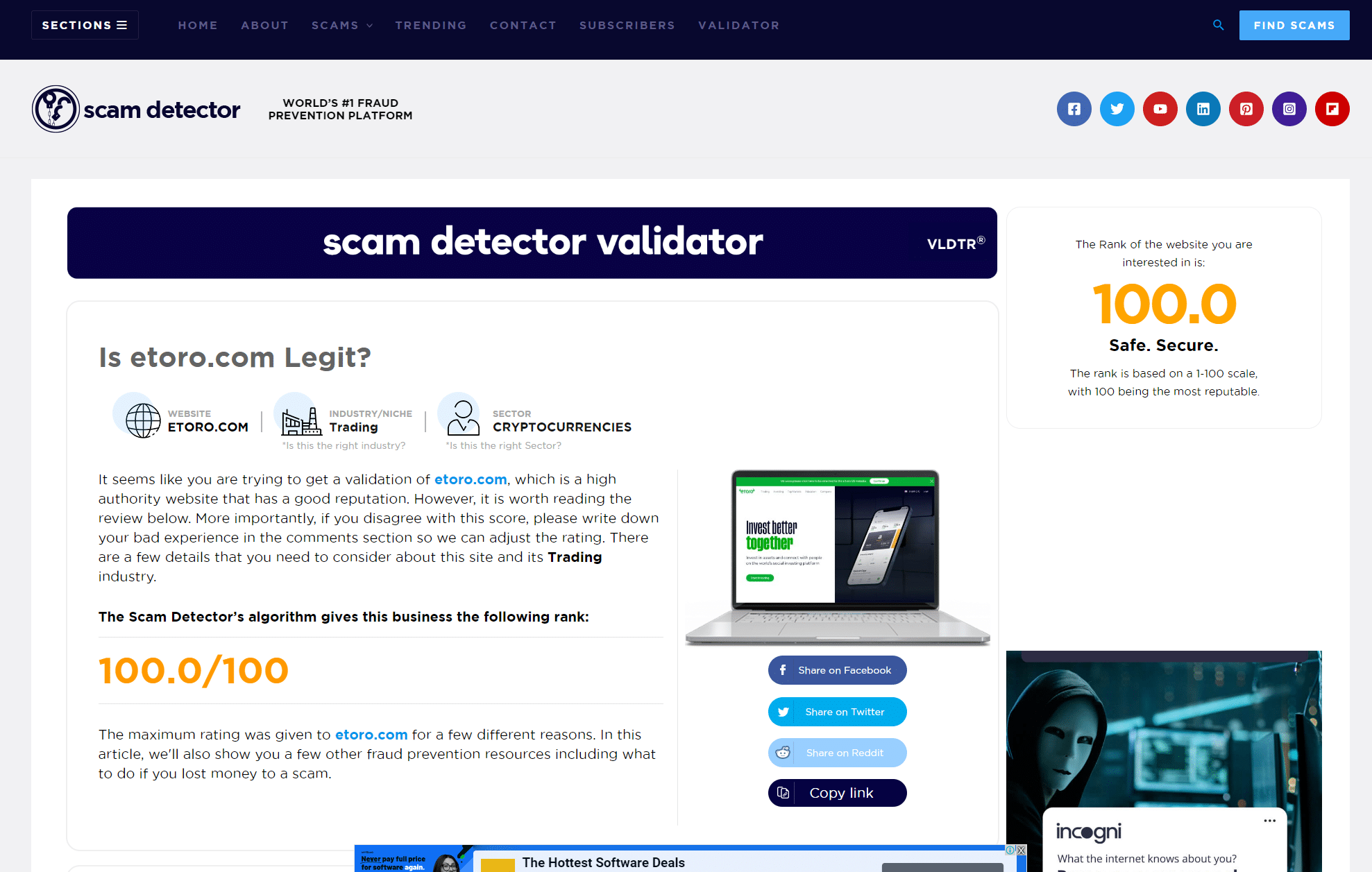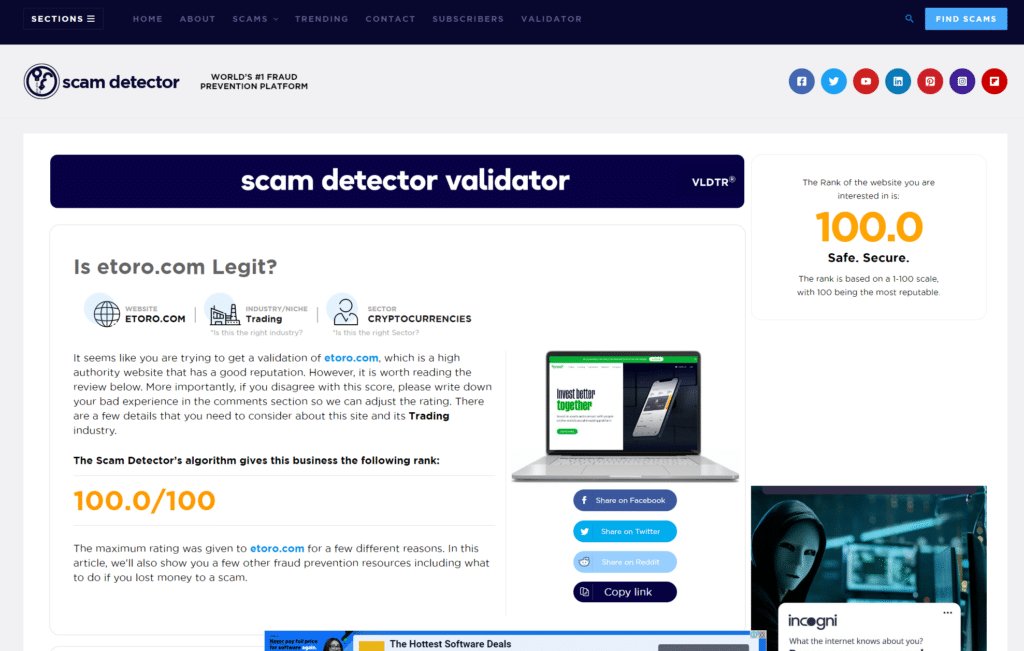 How You'll Benefit from SERPutation's Negative Review Removals
Partnering with SERPutation will allow you to get a wide range of benefits that can help you get a competitive edge. Here is just a list of the most prominent ones that you can get.
Reputation Repair
If a significant amount of negative reviews have negatively impacted your brand or company, a specialized solution can help you mend your reputation. You may regain trust, and establish yourself as a credible participant in the financial market. We can help you achieve this by methodically resolving and removing unwarranted criticism.
Better Conversion Rates
Negative reviews may discourage potential customers from interacting with your brand or from performing the appropriate actions. Your chances of turning leads into consumers can rise by eliminating or reducing unfavorable reviews. Positive online reputation management helps businesses develop by increasing conversion rates.
Improvement of Online Reputation
Financial brands and brokers' reputations can be damaged by bad reviews. You can enhance your online reputation by reducing the prominence and effect of adverse feedback by using our negative review removal service. We can assist you in maintaining a positive brand reputation and set it apart from rivals in the eyes of potential customers.
Excellent Suggestions and Comments
Negative reviews frequently include insightful criticism that can point out places where you need to improve. While a negative reviews removal service's main objective is to lessen the detrimental effect of bad comments, we also offer perceptions and suggestions for correcting fundamental problems to avoid further negative reviews.
What Makes SERPutation's Services Unique
Advanced tools and technology to help you spot negative reviews quickly
Discretion and confidentiality regarding your data
Proactive reputation management to meditate on the impact of negative reviews
Customized strategies according to your business needs
Get in touch with SERPutation to learn how our negative review removal services can help your financial brand!